Forrige dagen satt jeg meg ned og ryddet på bordet jeg bruker å sitte ved når jeg lakker neglene, det var fylt med lakk, eller dårlig samvittighet kan man også kalle det. All denne lakken gjorde at det føltes helt uoverkommelig å sette seg ned og swatche. Så jeg gjorde kort prosess og ryddet det meste vekk. Jeg må ha ryddige flater for å kunne være kreativ og etter å ha vært ute av det så lenge så må dette også være noe jeg gjør fordi det gir meg overskudd og er gøy. Jeg får heller plukke frem litt etter hvert.
I går kveld satt jeg meg ned bare for å leke litt, men fant ut at jeg kunne jo dele det med dere. Selv om jeg i etterklokskapens navn burde ha buffet neglene aldri så lite, men pytt.
Jeg testet ut den nye chrome-lakken til OPI fra Gwen Stefani-kolleksjonen. Mange har ønsket seg en sånn etter at Maybelline Mirror Image ble umulig å få tak i. Den var kjent som den mest skinnende kromblanke sølvlakken, den kom også med egen base coat slik som OPI Push and Shove gjør. Så jeg la et lag med base coaten som fulgte med og to lag med Push and Shove og holy amazechrome, den er nydelig! Back-up er bestilt!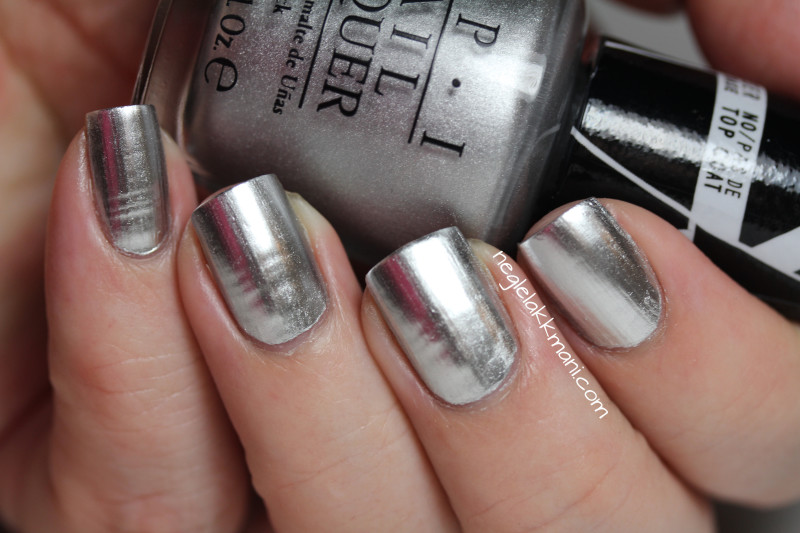 Dere ser godt de rillene som har kommet i det siste som går tvers over neglen, hadde nok hjulpet å buffe de litt, men se hvor blank og fin den er!! Dette er uten top coat, siden det ikke er anbefalt.
Jeg følte for å pynte litt mer på den og stemplet på motiv fra MoYou Artist Collection-03, brukte sort spesiallakk fra Konad til det.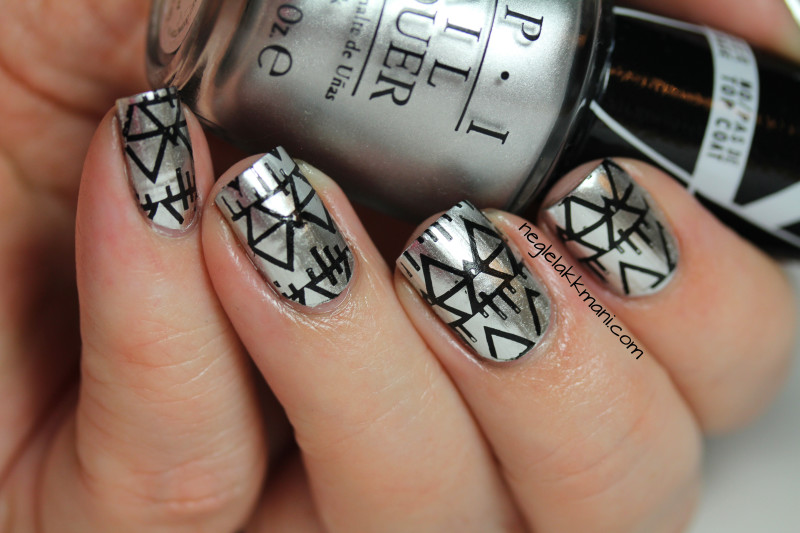 Likte godt det sorte mønsteret over sølv, kommer nok til å teste ut mer stempling over Push and Shove.
Neglene mine har den siste tiden vært sprø som kjeks, de smuldrer opp og fliser seg verre. Faktisk holder de seg bedre når jeg swatcher jevnlig, den kan også være helsen som påvirker de da, så nå oljes de og lakkes med behandlingslakk i håp om å styrke de.
Det var gøy å leke litt med lakk igjen og med et ryddig arbeidsbord håper jeg det blir lettere for meg å sette meg ned litt oftere.
Har dere kjøpt noe fra Gwen Stefani-kolleksjonen? 🙂