Da jeg var hos tannlegen i forrige uke rakk jeg å ta en snartur ned Bogstadveien før jeg hoppet inn i en drosje, på Cubus fant jeg displayet Northern Lights med julekolleksjonen fra IsaDora. Jeg sikret meg den nydelige lakken Polar Nights, blå jellylakk med sølvmicroglitter og litt større sekskantet glitter. Det ser virkelig ut som himmelen en skandinavisk vinternatt. Jeg tok meg ikke råd til de to andre lakkene denne gangen, men det er glitterlakker i sølv og gull.
Jeg la to lag med Polar Nights, avsluttet med top coat. Den er så fin!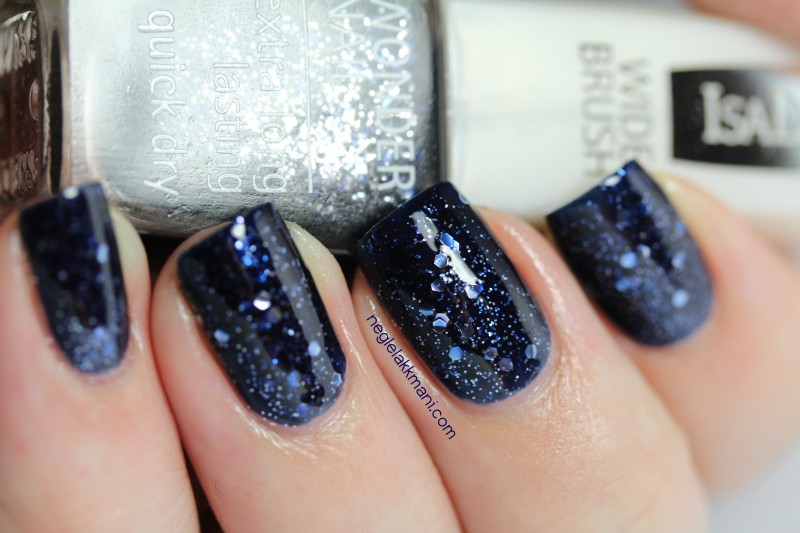 Denne anbefaler jeg virkelig, det er ikke ofte man snubler over lakker i Essie Starry Starry Night sin klasse, men denne er det.
Lakkene er ute i butikk nå og jeg så den både hos Vita og Cubus, koster kr. 89,- om det ikke kjøres et tilbud da.
Ikke glem å delta i bursdagsgiveawayen min for å kunne pynte deg med ekte gull på neglene til jul! 😉
Så har dere kjøpt denne skjønnheten? Like fornøyd som meg?