Det er enkelte ting jeg har vært treg med og en av de tingene er å teste ut gradient nails, så dette er min debut med dette på bloggen.
Jeg ble utrolig fornøyd med fargene sammen, det eneste jeg slet med var å få tatt et realistisk bilde av de, for samme hva jeg gjorde så ble de ikke så skarpe i fargen som de er i RL. Jeg strevde også i hele går med å ta gode bilder fordi hendene mine ble så røde/rosa. Da jeg våknet i dag gikk det plutselig opp for meg at jeg hadde på meg en knallrosa t-skjorte i går. Gådd, så treg jeg er noen ganger. 😛
Det jeg gjorde var å bruke en hvit lakk som base og brukte så  Cult Nails Tempest, China Glaze Highlight Of My Summer og Too Yacht To Handle til graderingen. Påførte dette med svamp over basen.
For å gjøre den litt mer spennende så stemplet jeg på et motiv fra Cheeky sin Viva Mexico jumboplate med hvit spesiallakk fra Konad.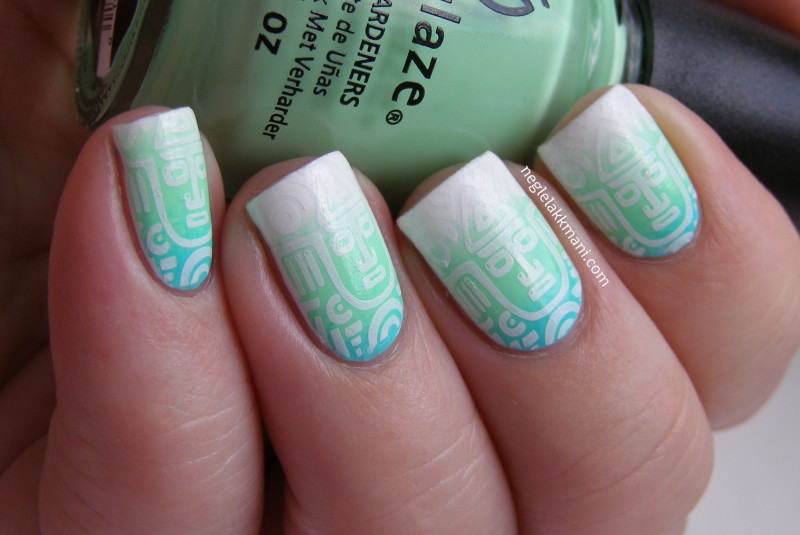 Jeg måtte tilslutt ta frem mitt gamle kamera for å ta dette bildet. 😆
Jeg ser på statistikken at dere har nytt det fine været og koste dere ute, og det unner jeg dere virkelig. Får håpe at det ikke blir så mye regn som de sier fremover.
Hva synes dere, har jeg bestått gradient nails prøven?
PS! Cult Nails Tempest er en av de enkleste hvite lakkene jeg har prøvd, så den anbefales virkelig.