Litt travel helg så jeg har ikke fått brukt så mye tid og energi på neglene, men jeg ville gjerne vise dere min favoritt fra sommerens IsaDora kolleksjon. Peachy Colada er egentlig ikke en farge jeg normalt faller sånn for, men det var noe med den bleke ferskenfargen som gjorde at jeg forelsket meg helt, den har allerede vært i bruk to ganger. 🙂
Den er lett å legge og dekker på to lag, jeg måtte jo stemple litt på den og fant et sommermotiv med sjøstjerner fra Cheeky Jumbo Tropical Holiday som  jeg stemplet på med gull-lakk (nr.17) fra Mundo De Unas.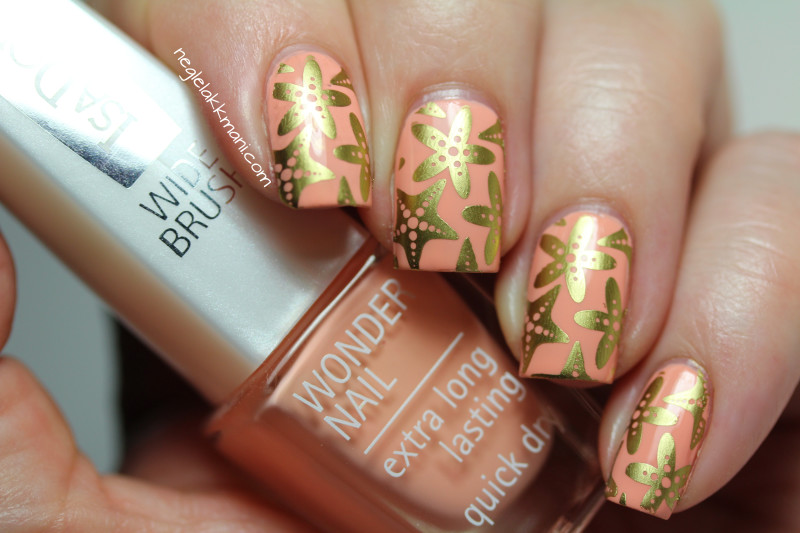 Sommermanikyr i en fei! 🙂 Jeg har lagt inn enda en bestilling hos Mundo De Unas som endelig har åpnet butikken sin igjen etter noen Paypal problemer, tror jeg eier hele kolleksjonen nå med unntak av noen få. De lakkene har virkelig vekket stemplegleden hos meg. Og det fine er at om man lakker basen med Seche Vite før stempling så kan man bare bruke litt tape til å fjerne motivet igjen om det blir mislykket. Man skader ikke baselakken så da er det bare å stemple på nytt igjen. 😀
IsaDora Peachy Colada får du nå kjøpt sammen med de andre fra sommerkolleksjonen til kun kr. 69,-  hos VITA.
Har dere kjøpt denne? 🙂
Lakken er en produktprøve fra IsaDora Norge