God morgen! Ikke blå, men grønn mandag her i dag. Det har vært så mange fargesterke manikyrer her i det siste så det kan kanskje være greit å dempe litt i dag. Skal prøve å være litt kort nå, for når dere leser dette er jeg straks på vei til legen. Jeg kjøpte Nailstation Officers overcoat ved åpningen av Norway Nails og liker den godt. Det er en lys, men samtidig dempet militærgrønn. To lag dekker fint, og lakken har god kvalitet. Jeg ville pynte den litt og fant frem Dashica SdP-A, øverst på platen er det to ruter med et snirklete hjertemotiv, jeg brukte begge på annenhver finger med speilvendt motiv for å gjør det litt mer spennende. Lakken jeg har stemplet med er Barry M nail effect i gold.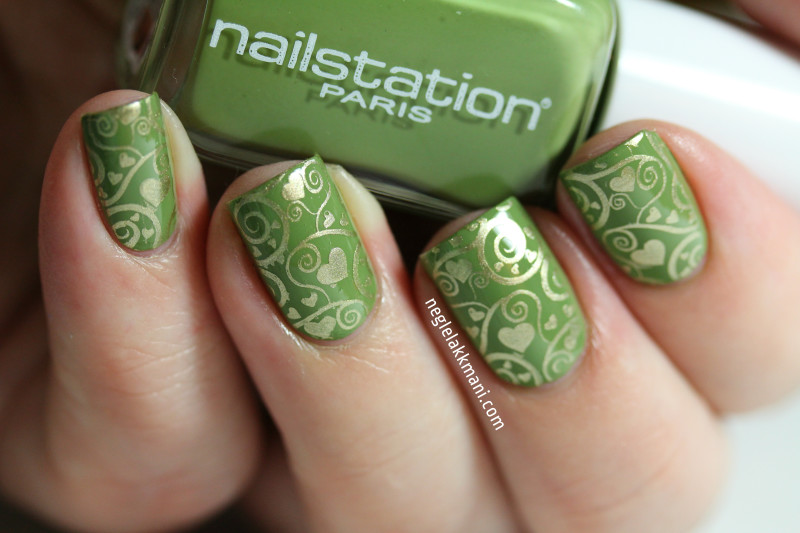 For de som ikke synes så mye om rosa så er jo absolutt dette en alternativ valentines manikyr. 🙂 Vårgrønn og fin.
Jeg sitter og funderer på om jeg har krefter til å bevege meg ut av mitt naturlige habitat når jeg likevel skal til legen, normalt så er det jo bare drosje til og fra lege, men har et bittelite behov for å se folk, så mulig jeg drister meg til å stikke hodet innom et kjøpesenter bare sånn kjapt for å se andre folk enn bare familien. 😉
Hva synes dere om Officers overcoat og motivet?
Nailstation Officers overcoat kan dere kjøpe hos Norway Nails til kr 129,-.