Rainbow Honey The Worst Possible Thing
Hei, til alle lesere som kikker innom etter å ha fulgt link fra Dagbladet eller Vixen.no! Det og at en blogg i Brasil lenker til deg har en viss positiv effekt på lesertallet, det må jeg si. 🙂
Rainbow Honey sin The Worst Possible Thing gav meg litt trøbbel, tenkte det var greit å få det på bordet med en gang. Jeg har lenge beundret emballasjen til Rainbow Honey, de var en av de første indie polish produsentene med spesialdesignet etikett og med boks som lakken ble levert i, veldig smakfullt og pent. Av en eller annen grunn så har jeg ikke kjøpt noen selv, men fikk denne tilsendt og var veldig spent. Og det er nettopp emballasjen (miniflasken) som svikter synes jeg, pent å se på, javisst. Men på brukervennlighet så skorter det. Kosten på lakken er veldig kort, i tillegg er korken veldig vid,  man ser rett og slett ikke kosten så godt, så jeg slet virkelig med å se hvor jeg la lakken. Jeg dabber jo ofte på indielakker, men med denne hadde jeg ikke sjans å styre noe. Ikke bra. Heldigvis er løsningen enkel, ikke kjøp miniflasker men full size så er problemet løst. Tåler du litt knoting kan du likevel gå for minien. For lakken er nydelig, ingenting i veien med den.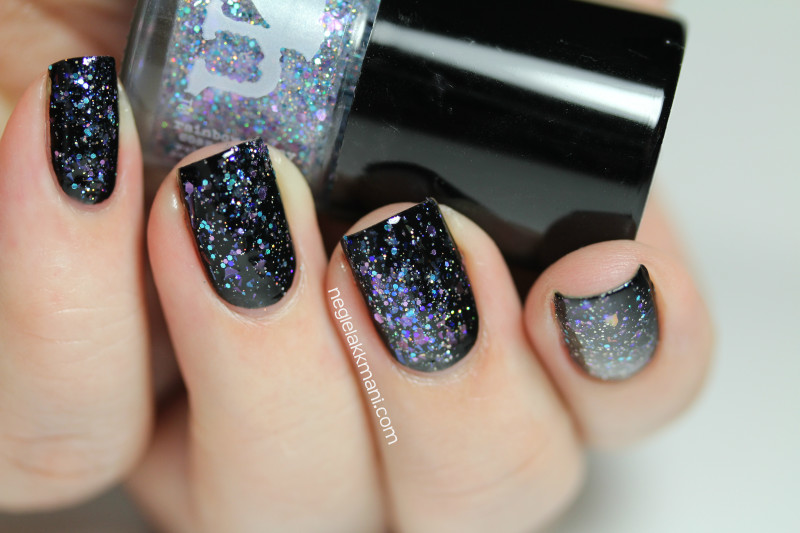 Rainbow Honey beskriver lakken sånn:
 A sheer layering polish, jewel encrusted just as Rarity would endorse, shimmering with opalescent flakes in purple and blue and a multitude of holographic and iridescent glitters.
Jeg la den som du ser over sort og det som er spesielt er at fargen skifter på glitteret når du beveger hånden, noe som gjør lakken veldig spennende.
Bilde av lakk og kost: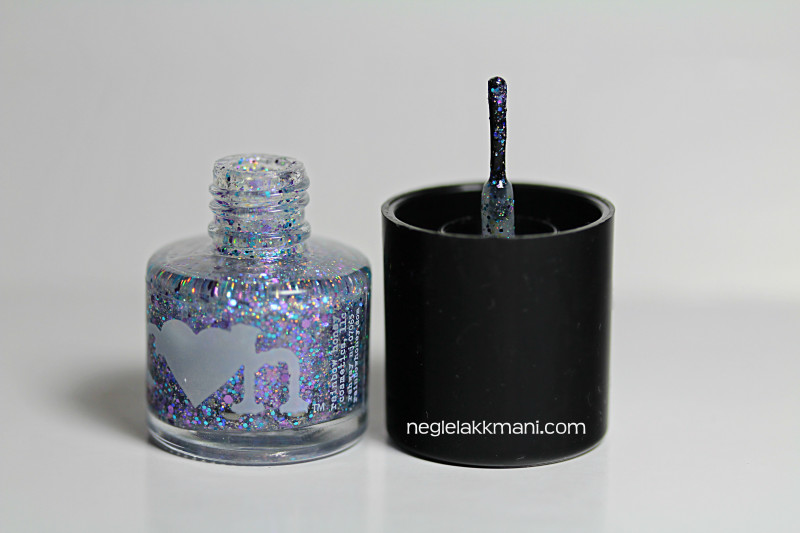 Jeg har googlet og sett at andre bloggere har påpekt det samme som meg angående kosten, jeg synes det er rart de ikke gjør noe med det, men tipper at det er en designer som sitter med vondt i hjertet sitt om de må bryte opp designet og skaffe flasker som ikke matcher. 😆 Jeg kan forstå det litt.
Uansett, lakken er nydelig og den blir å få kjøpt hos Norway Nails, ganske så snart. Følg Norway Nails på FB for info om åpning, gavedryss og neglelakkprat.
Om du liker bloggen min blir jeg veldig glad om du stemmer på meg i Vixen Blog Awards, HER!
Lakken er en produktprøve fra Norway Nails, mottatt for en ærlig vurdering.