Valentines and Instant Galaxy
I dag har jeg to lakker fra Darling Diva Polish sin valentines-kolleksjon, rosa  og søte akkurat som de skal være, men den ene skjuler en nydelig liten hemmelighet.
La meg starte med Cherubic, som er en vakker glitterskatt i en melkehvit base, den har røde, rosa og fiolett glitter. Det er formet som firkanter, sekskanter, sirkler (elsker rundt glitter!!) og hjerter. Jeg har dabbet på et lag over Essie Blanc for en mer opak effekt av baselakken.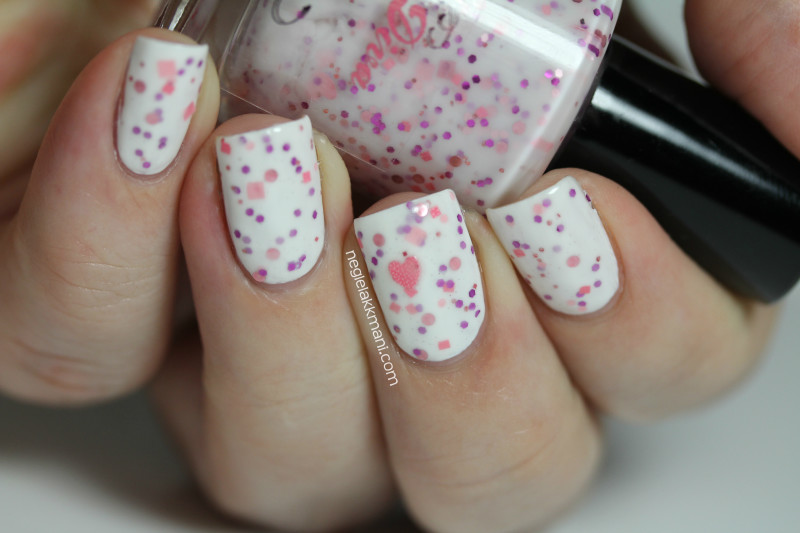 Nydelig søt lakk! Jeg fisket ikke etter hjertene men tok de som kom som en bonus, om du vil ha mye glitter på kosten kan du la lakken stå litt på hodet før du begynner å lakke.
Neste er nydelige BJ, skal ikke gå inn på mer spekulasjoner på de forkortelsene. 😉 BJ gav meg skikkelig trøbbel, den er så nydelig men akk så kamerasky, jeg er sikker på at jeg tok 200 bilder av denne uten å greie helt å formidle hvor skjønn den er. Det er en knallrosa skimmerlakk, med holografisk effekt og små holografiske glitter. Jeg greide ikke for mitt bare liv å fange den holografiske effekten med fotolamper, og hvem har sett solen så mye i det siste?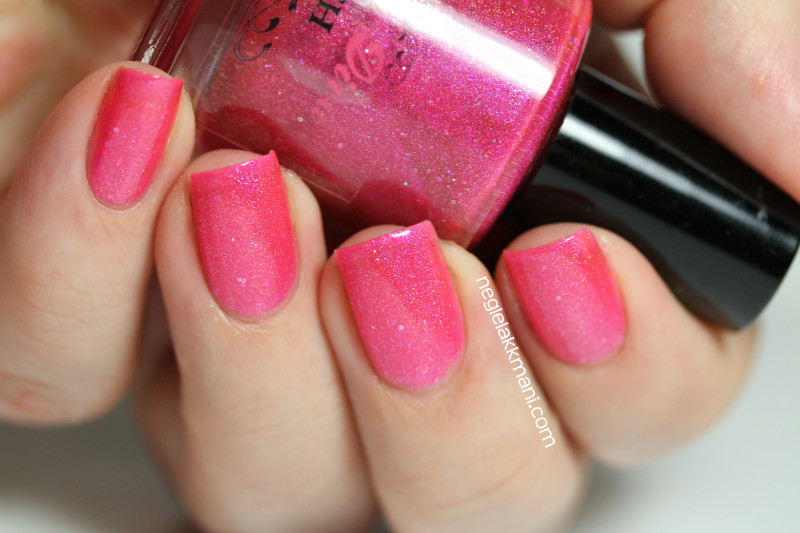 Jeg satt og lekte meg litt med lakken og la et tynt lag over en sort lakk, og bam, instant galaxy negler! Jeg liker effekten den gir helt utrolig godt, helt forelsket!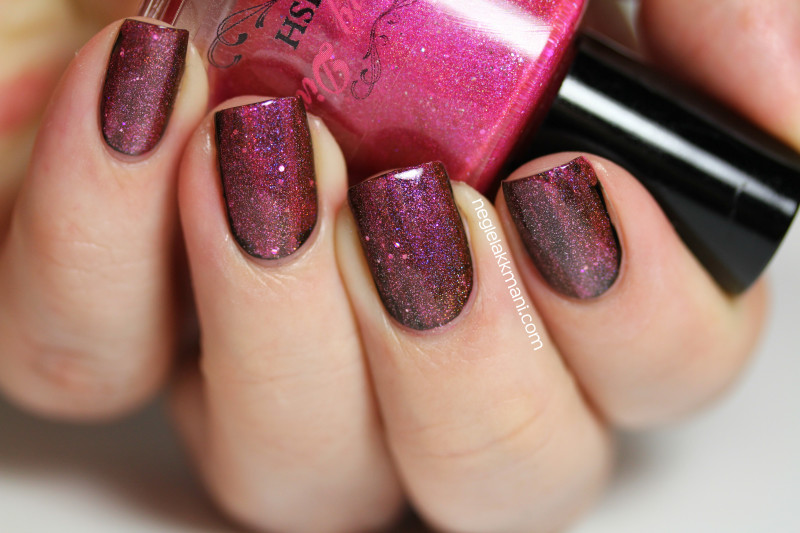 Det holografiske skimmeret gir et vakkert fargespill og glitteret ser ut som små stjerner. 🙂 En dag skal jeg leke meg litt mer med dette som base for å få en skikkelig galaxy manikyr.
Cherubic og BJ får du kjøpt hos Darling Diva Polish på Etsy, du kan også følge Darling Diva Polish på Facebook. Darling Diva Polish vil du også snart få kjøpt hos  Norway Nails.
Satser dere på valentinesmanikyrer fremover? 🙂
Lakkene er vareprøver fra Darling Diva Polish.