Move over 230, there's a new kid in town!
Aldri i mitt liv har jeg angret sånn på å vente med å prøve på en lakk! Jeg har aldri sett maken til lakk før og Clarin sin 230 er ingenting i sammenligning. Jeg har nesten lyst til å gråte litt over at jeg ikke kjøpte en back-up. Også håper jeg at noen hørte på rådet mitt og kjøpte disse når de var tilgjengelige, for jeg tror nemlig at de er tomme for dette pigmentet nå. Lakken jeg snakker om er Ninja Polish Alexandrite. Jeg har ikke swatchet den fordi jeg synes den så så "blek" ut i flasken. Haha, bare å spise i seg disse ordene. Se da, et lag over Illamasqua Boosh: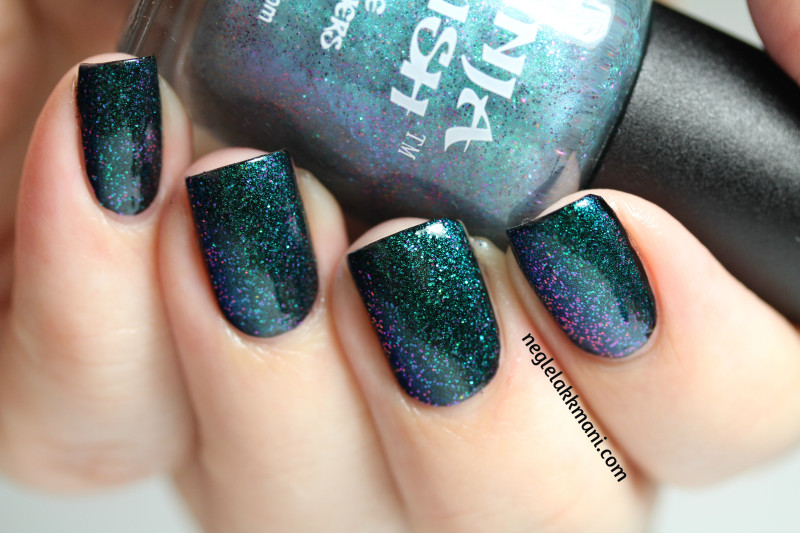 Den skifter i skarpt grønt (dette bildet greier ikke å vise hvor skarp den er), lilla blått, teal, rosa og burgunder. Og dette er ikke fisle-skift som hos Clarins 230 hvor du omtrent må brekke hånden for å få riktig vinkel til å se det grønne skiftet. Lakken er helt MAGISK!!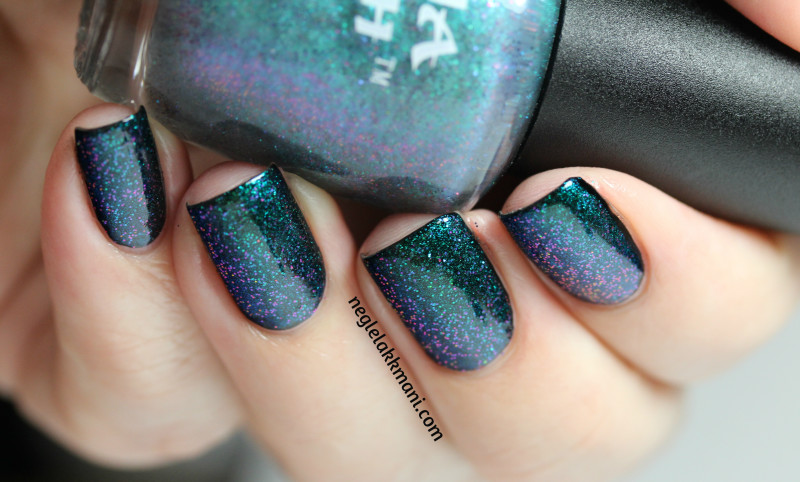 Hvorfor har jeg ikke kjøpt en til?!
Inne hos Ninja Polish står dette under Alexandrite:
NOTICE – This is the FINAL restock until we locate more of one of the pigments we use.

Due to the limited availability at this time and the large demand, we are implimenting a 1 per person limit. Do NOT order more than 1 Alexandrite! If you order more than 1, your order will be manually reduced to 1 and the remainder credited to you. If you place more than one order attempting to get more, your subsequent orders will be cancelled. I can not offer any exceptions, there are too many people who want this polish.

The Alexandrite gemstone is known as the 'Emerald by day and Ruby by night' due to how it shifts its coloration based on surrounding lighting. However if you have seen an Alexandrite the 'ruby' shift color is often a magenta with glints of purple. The green to purple shift of this polish can only be represented by this captivating gemstone. This polish is ideal over dark colors, especially a dark purple, and shows its truest colors over black. A single coat over black will transform your nail into an exhibition of colors that will hypnotize you. From a deep emerald green shifting into the deepest sapphire and continuing on into a sparkling purple. To set this polish apart from others similar to it, it also contains very fine and special glitter. This glitter not only provides some magnificent sparkle to your nails, but also in tandem with the polish, it shifts in color! When your polish appears a deep emerald green, the glitter will also sparkle with a magnificent green sparkle. As you shift to the blue/purple spectrum the glitter then bursts into a fantastic purple sparkle. These glitters are spectacular at picking up even the softest light in the room and causing your nails to alight with beauty. 15ml bottle.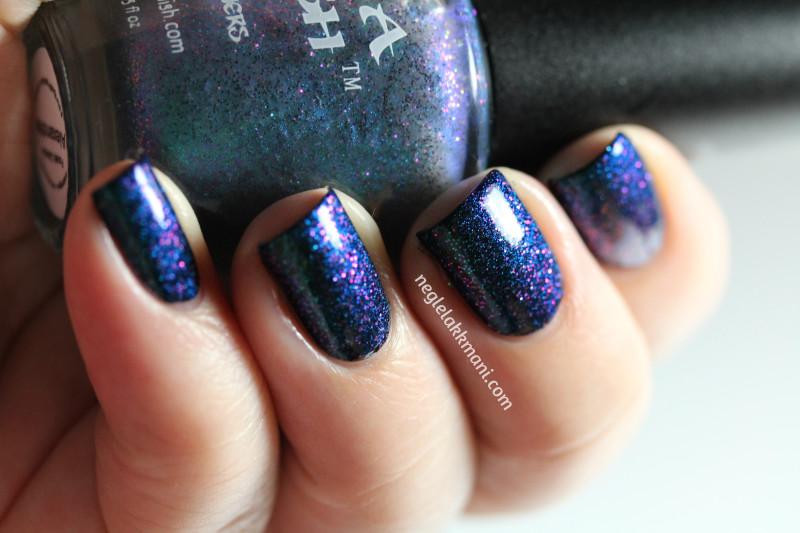 Jaja, jeg får vel trøste meg med at jeg iallefall har en flaske. Jeg hadde gladelig gitt den ene Clarins 230 i bytte for en til av denne. 🙁
Si at dere har fått kjøpt denne før de gikk tom for pigmenter?!
Hehe, sikkert mange som synes jeg overdriver nå, men fargejunkie som jeg er så blir jeg helt koko av en sånn skatt, typisk at den nå er HTF. 😛