Først må jeg bare takke for overveldende respons på nyttårsmanikyren min, over 180 likes på FB-siden min på et bilde er ikke hverdags. Flickr og instagram har også gitt fine tilbakemeldinger. Atter en gang så klaffet det med reserveløsningen. Det enkleste er ofte det beste, som flere har påpekt. Så på pinterest at noen mente at det måtte være neglestickers, og det kan jeg jo bare avkrefte. Holografisk lakk til stempling er magisk.
I dag viser jeg dere en swatch av lakken jeg hadde under på nyttårsaften og som bidro med de blå glitterflekkene som dere ser under fyrverkeriet og som var med på å forsterke effekten, den er også helt utrolig nydelig helt for seg selv. Picture Polish har laget denne i samarbeid med bloggeren  på Pshiiit.com som også har nettbutikk hvor hun selger lakker og bijoteri. De sier at den er en blå utgave av Picture Polish sin grønne Kryptonite som også har det nydelige spredte holografiske skimmeret/glitteret. Den har jeg liggende i arkivet, må huske å blogge den snart. Det er helt umulig å fange dybden i lakken på bilde, dette er en lakk som må oppleves i RL.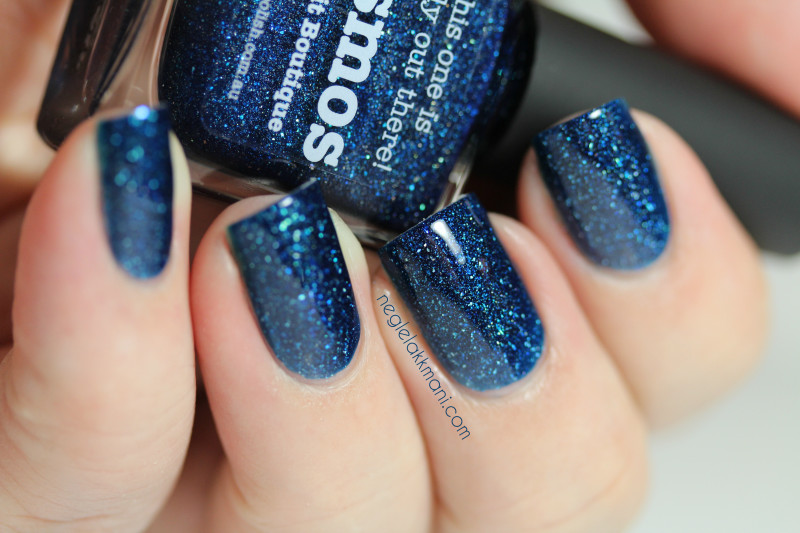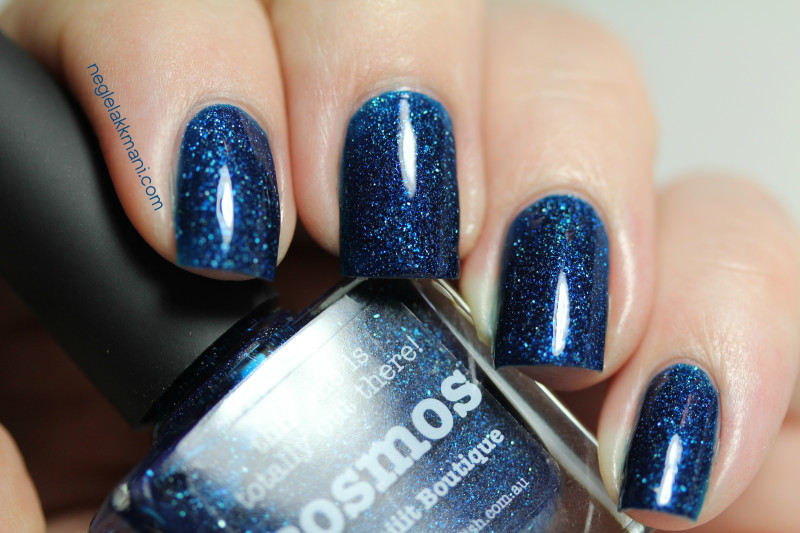 På bildet har jeg to lag, den er utrolig lett å legge. Skimmeret er helt flatt, det blir ikke knudrete overflate på denne. Bare elsk hele lakken.
Jeg har både kjøpt lakken og fått den som produktprøve av nettbutikken Norway Nails som åpner snart. Hun har blitt Picture Polish sin forhandler i Skandinavia, trykk liker på FB siden og les om alle lakkene hun skal føre og få informasjon om når åpningen nærmer seg. Dette gjelder ikke kun norske kjøpere, hun sender også til de andre skandinaviske landene. Jeg vet det er flere lesere her både fra Sverige, Danmark og Finland, så dette gjelder også dere. For norske kunder så slipper vi jo endelig å forholde oss til tollgrensen og til enkelte forhandlere som ikke sender til Norge, så dette blir bra!
Jeg må innrømme at denne lakken gjør meg litt Gollum og jeg er veldig glad jeg har to flasker av den. 😉
Hva synes dere? Og blir det ikke bra med en forhandler som selger utenlandske/indie lakker her i Norge?