Det var ikke meningen å ta en så lang pause,men jeg har kranglet med kroppen og det henger enda litt i.
Lakken jeg viser i dag er Daily Lacquer Makoto. Jeg tror jeg var en av de første kundene til Maggy, jeg greide ikke å motstå glitteret i grønt og rosa, en veldig fin kombinasjon. Jeg bestilte også Ami og med på kjøpet fikk jeg en miniflaske av Swirly Twirly Gumdrops. Maggy hadde også skrevet et søtt kort som fulgte med, og alt kom pent pakket inn i gavepose.
Jeg ble dessverre ikke fornøyd med bildene, kameraet fikk glitteroverdose og slet med å fokusere men jeg tror dere får en liten ide likevel. Jeg la Makoto over China Glaze Winter Holly.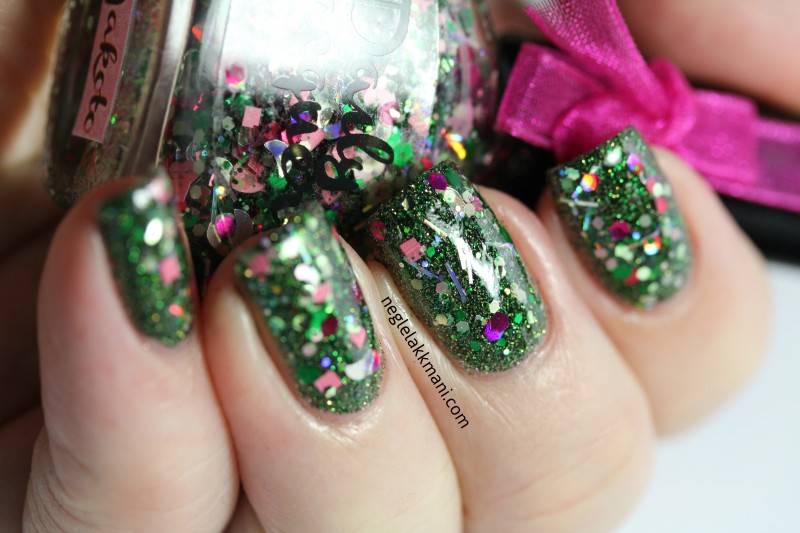 Maggy beskriver lakken slik:
This is a clear-based polish full of gorgeous green and pink matte glitters and holo glitters. This bottle contains hearts and moons and the powerful fighting spirit of Sailor Jupiter. Dare to wear this lovely polish on your nails to make you feel like a Sailor Scout princess.

~ 3- Free

~ Each bottle is handmade with love and therefore there will be slight variations with each batch I create. Use a top coat to make the polish even more beautiful!!

~ Full size bottle 13.5 ml
Her er alle de små skjønnhetene samlet: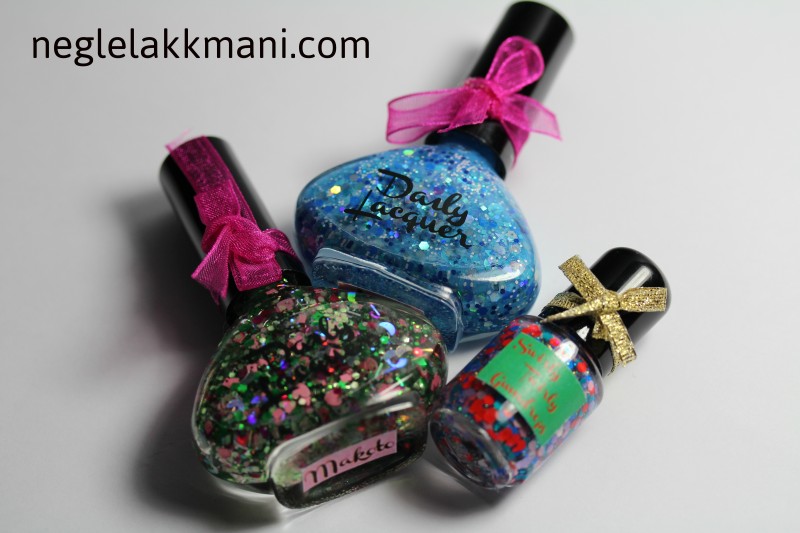 Lakkene koster $8 +frakt og kan kjøpes på Etsy hos Daily Lacquer.
Ellers så har jeg kjøpt meg et Depend GeLlack sett, har allerede testet det ut på datteren, med godt resultat, hun bedriver nå holdbarhetstesten så jeg kommer tilbake til det om en uke eller to. Jeg bestilte meg noen ekstra gellakker hos Depend.no de var så hyggelige at de sendte med 5 lakker ekstra som jeg kunne blogge om, så jeg tenkte at jeg kanskje kunne swatche de på et neglehjul og legge ut her slik at dere kan få se hvordan de ser ut. Ikke så lett å danne seg et bilde av lakken med de bildene som er på lakkflasken, er det noe som dere kunne være interessert i å se?
Depend Norge ønsker seg forresten flere følgere og har en flott giveaway på bloggen sin i forbindelse med dette.
Er dere nysgjerrige på Depend sin GeLlack?
PS! Jeg har fylt opp Etsybutikken min By Karianne i tilfelle noen er ute etter fine og rimelige julegaver.