Color Club Gift Of Sparkle
Denne måtte jeg ha etter å ha sett Sminkan sine bilder av den. Glitrende lilla er umulig å motstå. Gift Of Sparkle er fra Color Club sin julekolleksjon Winter Affair.
Dessverre ble jeg skuffet da jeg testet ut denne lakken, det var rett og slett som å lakke neglene med grøt, seigt klumpete og uansett hva jeg gjorde så la den seg ujevnt. (Jeg må innrømme at jeg lengtet litt til Linda Johansen sin Razzle Dazzle da jeg kjempet med denne lakken, den er så smooth og god å legge.) Jeg kunne selvsagt ha tynnet den i håp om at den bedret seg , men jeg vil jo helst formidle hvordan den er fresh ut av flasken. Takket være top coat så ser ikke bildet så aller verst ut, men når jeg så på lakken så var den for ujevn til at jeg hadde taklet å gå med den. Min anbefaling er egentlig, styr unna.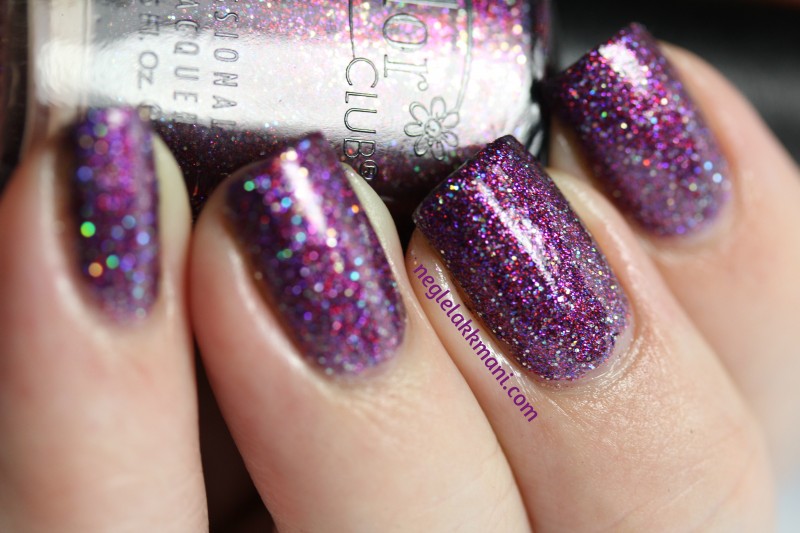 Utseendemessig når man ser bort i fra den håpløse konsistensen så er jo lakken nydelig, men den tørker veldig ru på grunn av glitteret og krever noen lag med top coat for at den skal holde seg glatt. Den er ikke så pen at den er verdt så mye kladd og arbeid syns jeg. Denne må nok få endel dråper neglelakktynner før jeg tør våge meg på den igjen. Evt. så kan jeg lage neglelakksmykker av den.
Er dette ting du kunne ha oversett om lakken var pen nok?